---
It's no secret that the Electronic Entertainment Expo is the grandest and most decadent circle jerk in the videogame industry. The annual phenomenon known as E3 is notorious for a cavalcade of reasons. 
Corporate press conferences noise polluted with marketing buzz words spewed unironically from suits utterly out of touch with their audience.

The showroom floor packed with expensive one-of-a-kind props and elaborate sets that have nothing to do with the actual quality of games.

Flashy reveal trailers that surprise and excite the inner fanboy within the hearts of manchildren. (also poor indicators of final game quality)
It's an entertainment industry finally blowing its load all over its own smiling face after months of edging, before grabbing a towel and returning to tepid normalcy. It's a pretty big load, though. Lots of news. Lots of hype. Lots of cringe. It's what makes E3 so spesh. These are the 10 Most Important Takeaways from E3 2016. (List is in no particular order, except the number one spot, for obvious reasons)
---
Despite the climactic finale of God of War 3, it would appear Sony's investors aren't ready to let the angry Greek's money train pull into station. In God of War, Sony Santa Monica is now finally doing that stupid thing that people have talked about for forever now – Norse mythology. The change isn't exclusive to the setting, either. Nearly every aspect of the game has been changed to suit modern gamer focus testing. No chain blades. No cinematic camera. No TC Carson to voice Kratos (easily the most egregious change). Instead, our anti-hero now wields an axe and babysits his young son, clearly riding on the coattails of Joel and Ellie's dynamic from The Last of Us. Nearly every bone in my body is telling me to run, to just accept that God of War ended and that this is just banking off the title and familiar character to sell copies (cough Ghostbusters reboot cough), but there is one saving grace. And that is Cory Barlog. The director behind God of War 2 has returned to work on this project. Though the game still looks like a step in every wrong direction possible, knowing Barlog is steering the ship gives me enough hope to elevate this unnecessary sequel from a complete write-off to a position of cautious optimism. Who knows, maybe the game will be great and I'll eat crow for having doubted it. But probably not. This game looks wack.
---
9. Battlefield 1 – make The Great War fun again
After blowing Activision's prized Call of Duty series out of the water when both released their reveal trailers earlier this year, EA only has to make sure it doesn't do something impossibly stupid (like holding back the entire French army as DLC) to pop their over-inflated hype balloon. If they can manage that, the execs and shareholders are sure to have cocaine parties every weekend. Because the game does seem pretty sweet. I mean, what more perfect irony for a meaningless and shitty war than to turn it into a game for 13-year-olds to say shitty things to one another during meaningless rounds of CTF…  The graphics are sharp, maps will have varying weather, destructible environments are back, and the WWI setting is a much needed change from the neon purple clown camo and whip-naenae whatever-the-fuck emotes in CoD. But it is EA. Which means we'll be ripped off by DLC and microtransactions. Hopefully they release a full game at launch, unlike what they did with Star Wars: Battlefront. I ain't having that shit.
---
8. Fallout 4 – Don't make me hate you, please
Bethesda showed off the goods again this E3. Dishonored 2 and the Prey reboot both caught my interest with their intriguing worlds and mysterious tones. But both of those games are still in the tank right now, with not much to pick apart. Todd Howard did divulge on what to expect from his studio however. And that was… kind of lame. Fallout 4 will be receiving its final DLC expansion, Nuka World, later this year -making for a total of 2.5 worthwhile add-ons. This, plus more contraptions for settlement building, like elevators and conveyor belts. "Disappointment" is a word that springs to mind. Also, "Rage." "Fuck" and "You," as well. After Fallout 3 and New Vegas's precedent of 5 expansions per game, hearing that all that DLC season pass money culminated into the weakest offering to date, it's hard not to be upset. Nobody asked for settlement building. Nobody wanted this watered down game. But that's what we got. And for some reason (easy money), we're also getting a re-release of Skyrim. Thank Buddha for mods.
---
Project Scorpio and Playstation Neo – uhh…
With the rumors of new Xbox and Playstation consoles confirmed, the biggest question mark in the industry just became the biggest exclamation point, too. This is because despite what Xbox execs and the like will tell you, it's unlikely (not impossible, but improbable) that these new consoles will comfortably exist alongside their current iterations. Developers will have to make games work across one or two more platforms than they already are. Either they put more focus on cutting edge tech, or they stick to the current player base with millions more potential customers. Are the current gen systems dead in the water? What will be major selling points to differentiate the consoles? 4K resolution? More RAM? Will it matter? These are questions that need answers. Meanwhile, that feces-feathered goose that occasionally squats out a golden egg, Nintendo, still has nothing to show except for more Zelda. Show the NX, damnit! I'm so tired of seeing your faces on the milk carton, every E3.
---
6. Injustice 2 – DC comics Dress-up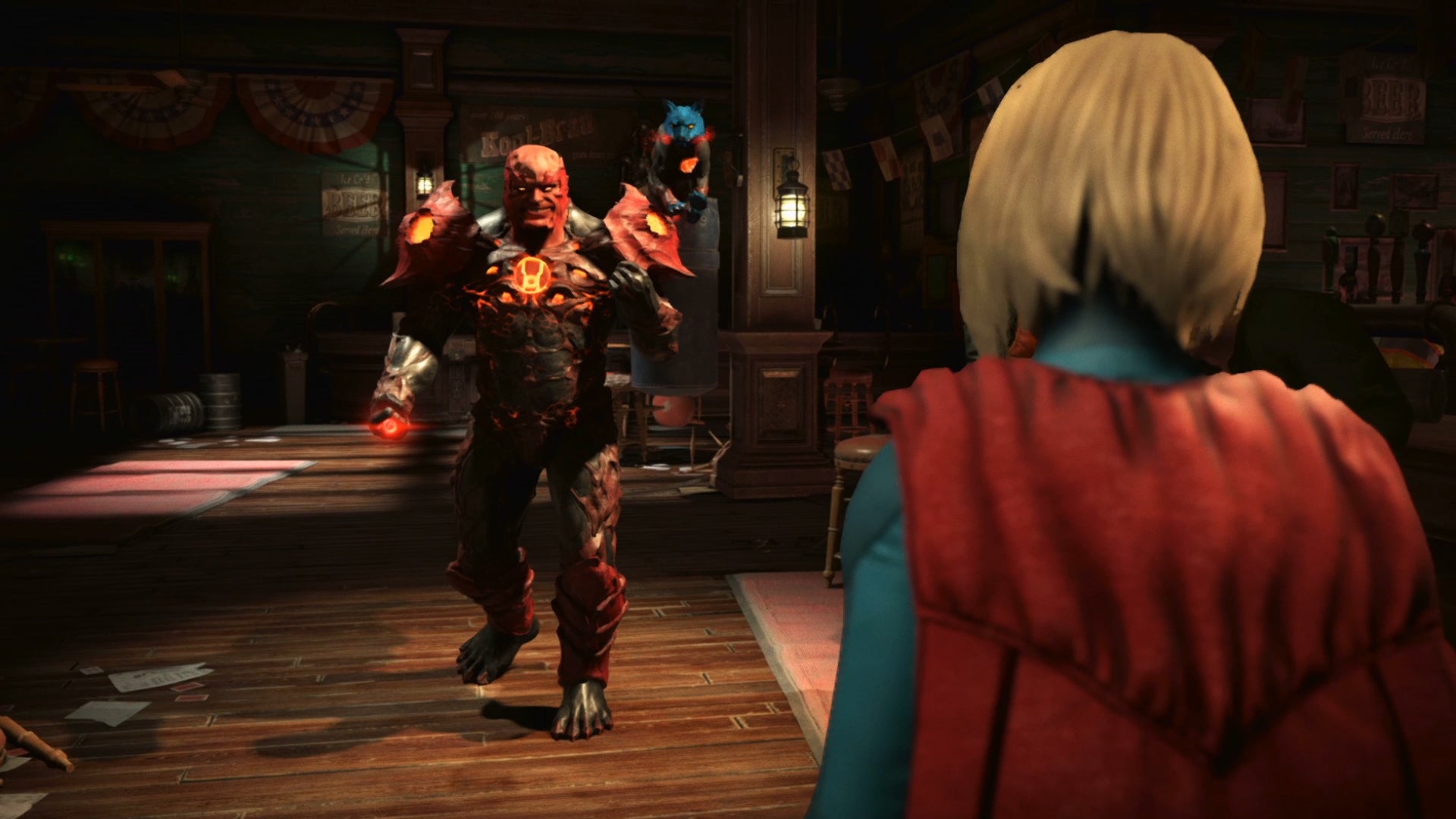 Ed Boon and his eyebrows brought a demo of  Mortal Kombat Lite 2 to E3 this year, with a new customization feature to boot. Injustice 2 includes a Gear system that affects gameplay as well as allows players to gussy up their heroes as they see fit. Unlocking new loot is already addicting as is, but the best part is how players have the ability to make a character's uniform look how they think it should look. This is an incredibly welcome change when considering some of the design choices made in the original game were less than perfect. Just look at this egg:
Literally as intimidating as a limbless panda. With the new Gear system however-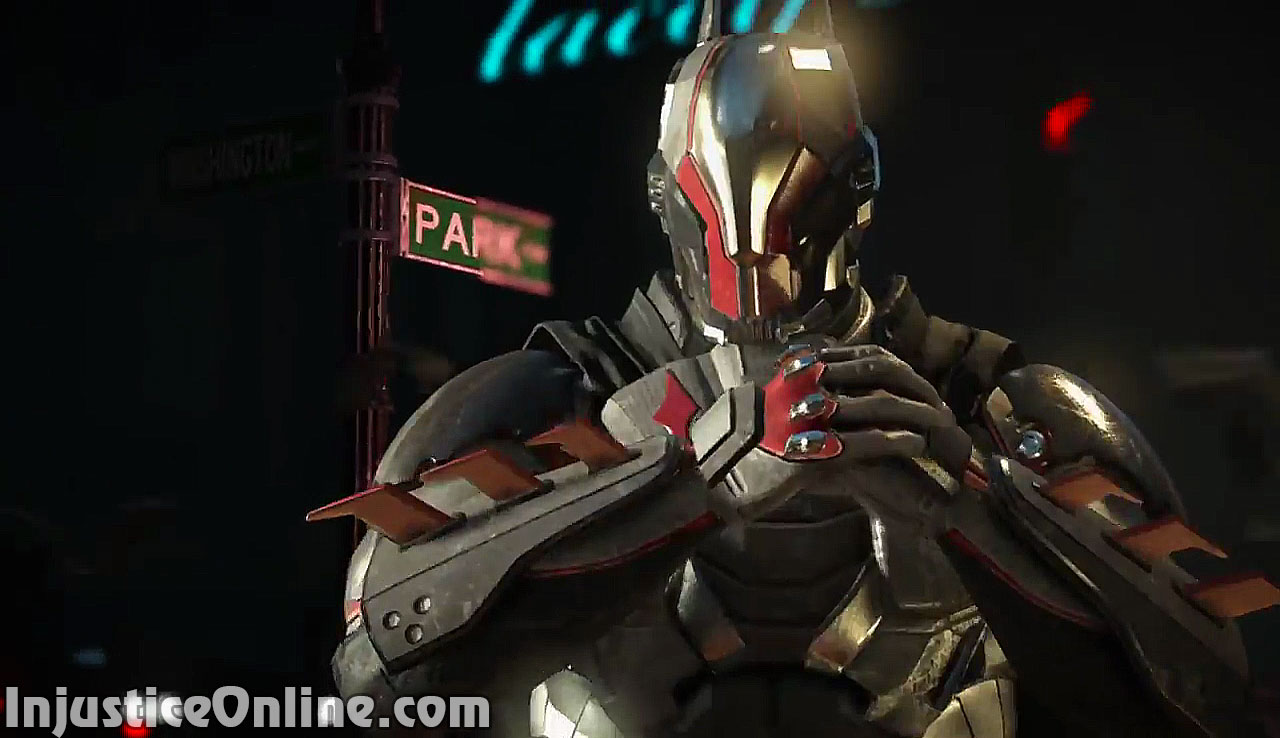 Yeah. You heard that noise? That noise that sounded like a damp rag just hit the floor? Well that was the sound of every Batman nerd in the world collectively dropping their panties. I'm excited to see how much customization there is across all characters. Boon wants a huge roster of fighters, and of the six confirmed, three are new to the series. Supergirl, Gorilla Grodd, and Atrocitus all look like great additions, but now comes the speculation. Will we see Darkseid playable this time around? Can I have a Penguin that looks like Danny DeVito? I'm personally rooting for a playable Starfire and Beast Boy, but even if they don't make the initial cut, WB and Netherrealm Studios are cranking out plenty of DLC fighters after the 2017 launch, so this game will be huge when all is said and done.
---
5. Watch Dogs 2 – The Ubisoft dilemma
Lying to the public is Ubisoft's calling card. E3 trailers for their games are all but completely irrelevant at this point, due to how consistently disingenuous they've been in recent years. Watch Dogs, Rainbow Six: Siege, and The Division have all had their E3 demos exposed as flat-out misrepresentations of their final retail versions. So it really hurts seeing so much potential in Watch Dogs 2. I want to be excited about hacking everything in Silicon Valley as a parkour master, but I also don't want to be hurt again. I'm tired of the lies – the empty promise that things will change. And no, Michael Fassbender in your Assassin's Creed movie won't win me over. We'll have to wait and see. Maybe in a few months I'll be okay again, but until then, the South Park game is about all I'm ready to commit to. (Seriously, The Fractured but Whole has the potential to be the best superhero game this year.) Goodbye, Ubisoft.
---
4. Indie games – Like hipsters, but less awful
Microsoft isn't new to great independent games. On 360, Braid, Limbo, Super Meat Boy, and Fez all started as Xbox exclusives. The keyword there is "started." The same logic should apply to this next batch of indies. Cuphead has drawn a lot of well-deserved attention for its 1930's cartoon-inspired art style. Everything in the world is animated with a bounce or sway to it, and the gameplay is largely centered around devilishly hard boss fights that border on bullet hell. On the opposite end of the color spectrum, Inside's bleak greys drown players in the spiritual sequel to Playdead's Limbo. Again, players will explore a morbid and deadly world of darkness and mystery as a small boy. This game has released since E3, but I'm holding off my judgement until I can get my hands on a PS4 version. Lastly, We Happy Few is a 3D first-person game set in an eerie, 1960s-esque dystopia where everyone is Brady Bunch happy, wears white face paint, and are forced to take a drug called "Joy." In the demo, the player character doesn't take their medicine and is subsequently targeted by an Orwellian police force. This is EXACTLY the type of thing I want from indie developers. More ambitious worlds and risk-taking stories? Yes, please. It's just a shame Playstation gamers are going to have to wait even longer for these titles. In the meantime, Double Fine's Headlander will be on PS4. Published by Adult Swim (and thankfully not left to Tim Schafer's Kickstarter habits), the game is about a head. A head that can attach itself to robots to control those robots. The 2D game will feature Metroid-like level progression and Double Fine's sense of humor, for better or worse.
---
3. Gravity Rush 2 – I hate Skylanders.
One of the biggest letdowns at E3 happened during Sony's press conference. We all saw the shadow of Crash Bandicoot on the stage. We all had our hairs stand up in anticipation. But before you could even say "my body is ready, I am lubed, take me, take me now," it all came crashing down. Sony's big Crash announcement was that the familiar face would be slapped onto Activision's next Skylanders bowel movement. The HD remasters aren't worth getting excited over, either. There's nothing exciting about playing games we could play for 20 years now. And whoever decided to throw in a trailer for the upcoming Lego game should really consider throwing themselves down a well. Sony's press conference did not include even one mention of Gravity Rush 2 – a Playstation brand EXCLUSIVE that has more originality and charm than either of those bird shits combined. Why was this shafted? Is it because it isn't marketed to dumb children with shitty taste, perhaps? Or because it was made by developers who don't secretly wish a shooter came into the office and ended their lives? Who knows. What we do know is that it's a beautiful sequel to a well-reviewed game. The main character has super powers and the game world looks stunning! But that isn't the kind of game Sony wanted us to see, apparently. And quite frankly, I'm not sure I'll get this haunting image washed from my brain any time soon.
 Thanks, Obama.
---
2. Virtual Reality – Real Gimmicky
A couple years ago, the hype surrounding the Oculus Rift made it seem like the futuristic technology of the future would finally come to the present times. Well, VR is here now, and it's expensive as hell, makes you look stupid, and few games actually implement it well – so of course we got to see a ton of it at E3. No, John Carmack, I really couldn't give a rat's tits about "living and breathing in a Minecraft world." At $400+ dollars a piece, no co-op in mind, and games featuring obvious limitations on character movement, this trend will die just like motion control and 3D TVs. The only legitimate reason for these things to exist is to see Dashie scream while playing VR horror games. Playstation is the console brand currently advocating the hardest for it, but nothing outside of the X-Wing simulator they showed off had the "wow" factor something like this needs in order to sell. I'll wait another decade for technology to catch up before I take this seriously. Until then, I'm gonna keep that $400 in my wallet.
---
Spider-Man, the hero E3 deserved 
I'm a shameless Spider-Man fanboy. The Tobey Maguire movies were my childhood fantasies on the big screen, and the videogames let me recreate what I read in the comics. So it should come as no surprise that the biggest E3 moment for me was seeing the trailer for Insomniac's Playstation-exclusive Spider-Man game. Can you say "system seller?" Insomniac seems like a less obvious choice  for making a superhero game than Sucker Punch studios (devs of the Infamous series), but the tone in the trailer felt like they perfectly captured the feel of Spidey heroics. The cinematic trailer showed off some scripted action, including a part where Spider-Man ran on the tables of a cafe before bursting out its window. I'm curious to see if the final game will feature such detailed interiors. Aside from that note, I actually like the new suit, though I hope more costumes are unlockable in the game. Overall, this is my most anticipated game coming out of E3 2016. I had almost begun to think E3 would have no true stand-out game for me this year, but Spider-Man came to the rescue, as usual.